To become a Bounty Hunter, talk to NPC Sunfer in Twin City (409,386).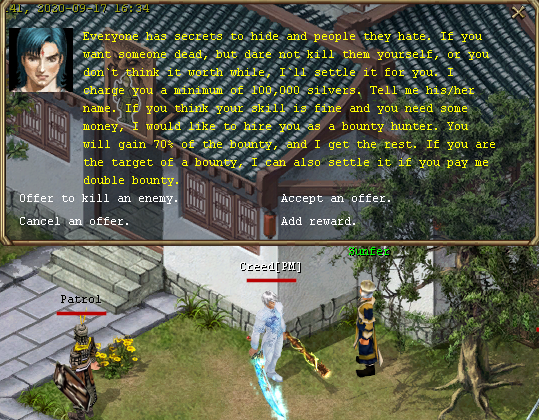 Everyone has secrets to hide and people they hate. If you want someone dead, but you dare not to kill him/her yourself, or you don't think it's worthwhile, you may ask Sunfer to settle it for you.
Of course this is not free, Sunfer will charge you a minimum of 100,000 silver.
If you think you are powerful and you need money at the moment, you may become a bounty hunter working for Sunfer. You'll gain 70 percent of the bounty for your work.
If you accept two or more offers, you can take only the last. The offer that you have accepted will be canceled if you log out before it is completed.
If you are the target of a bounty and you want to keep away from the danger, you can also pay Sunfer double bounty to cancel it.